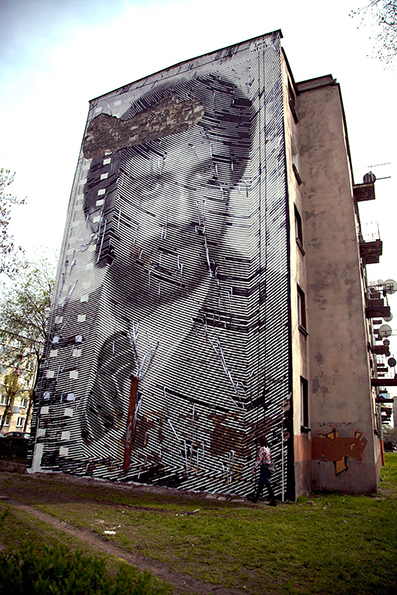 Sten & Lex are two of the main street artist in Italy, celebrated all over the world as intersting young performer of art in Italy. In Wunderkammern gallery of Rome began on 7 february the new exhibition Matrici distrutte. As Banksy, their identity is a mystery. They use to speak just through their works, saving the rebel spirit of street art, which is not simple to find in all the italian street artists, who are such as star in Italy in the last years. Included in countless publications, they participated in the Cans Festival in London in 2008, upon invitation by Banksy, and The Nuart Festival in Norway, one of most important street art events in the world. Their works have been shown in prestigious national and international institutions, included in precious private collections and have been held in institutions like the Madre museum in Naples, and permanently at the Macro in Rome.
Sten Lex are pioneers of the stencil technique in Italy. They got their start in 2001 on the streets of Rome, and since then their work with stencils has been in constant evolution. They introduced innovations such as Hole School, which applied mezzotint technique to stencils and changed the perceived image from abstraction to figuration according to the distance of the observer. In 2010, Sten Lex began to utilize "Stencil Poster", a technique invented by them: the artists paste a poster to the surface, cut out a part of the figure as with a stencil and then paint over the matrix, ultimately ripping off the paper to reveal the final image. For their exterior installations, the paper is removed organically by natural factors: the piece, therefore, is transformed by the passing of time, and it is revealed according to atmospheric rhythms.
The artist duo will present new works created specifically for their show at Wunderkammern, one of the most outstanding italian gallery for Street art. They include wood pieces and artworks on metal plates, that either evoke those realized in the public space or that will be the foundation of new ideas for future works, and limited edition works on paper. Before the opening, the artists will produce several mural interventions in Rome. The critical essay for the show is written by Samantha Longhi (Graffiti Art magazine).